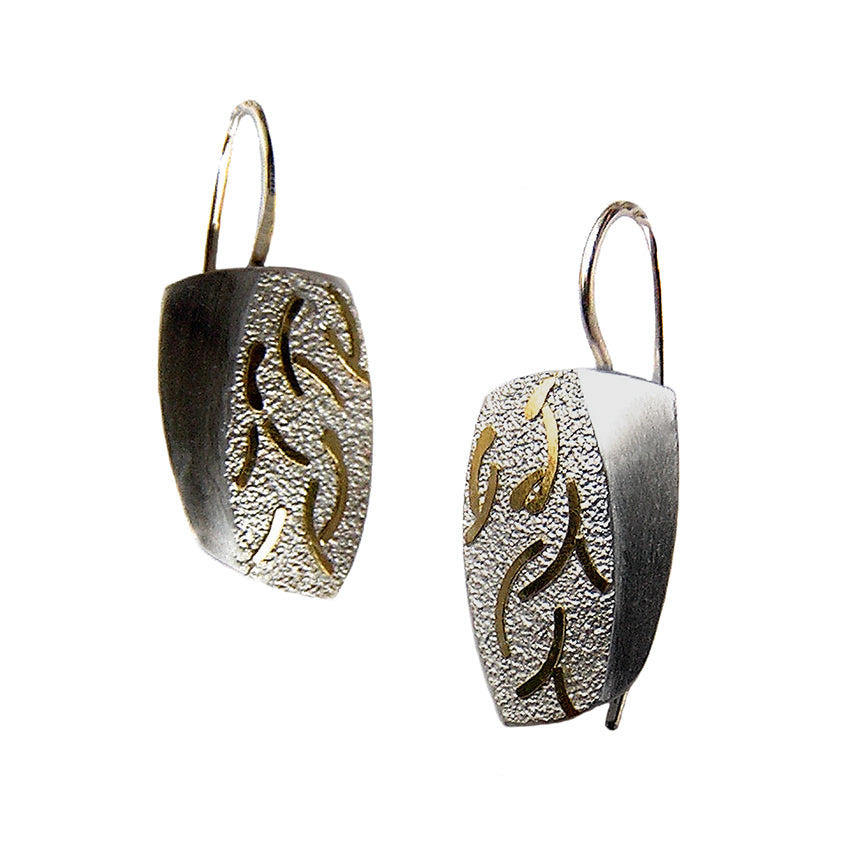 ARABESQUE HOOK EARRINGS
$590.91 AUD
DESCRIPTION
Featuring a timeless and one-of-a-kind arabesque motif, these earrings bring an element of beauty to any look.
Every gold wire has been lovingly carved and shaped by hand before being applied to the surface. So no two pieces of Jeanette's hand made jewellery will be identical.
This piece is made by using a specialised and difficult process of fusing precious metals together, in order to create a beautiful and uniquely decorated surface.
Every pair of earrings come with a left and right earring, which are designed to follow the jaw line and compliment the face.
This piece is a sturdy hollow construction. They are designed to hang beautifully on the body as function and quality of craftsmanship are essential to my work.

The matching pendant is available to buy here and not included in the price.

SIZE
20mm x 15mm

MATERIALS
18ct gold and sterling silver

SURFACE FINISH
A contemporary frosted finish with a contrasting satin finish swoosh down one side. Each earring has a highly polished sterling silver earring hook, edges and highly polished 18ct gold decoration

PROCESSING TIME
2-3 weeks
As all of my jewellery is lovingly hand made by me in Melbourne and most of the time made to order. Sometimes it can take a little while to make this piece for you. Please check the processing times carefully before ordering. I always try to work to my customers needs, so if your order is urgent then please send me a message and I will let you know if I can process the item more quickly for you.

These Earrings are hand made and designed by Jeanette Dyke at Montsalvat in Melbourne.
All my works are quality pieces and come packed in their own jewellery box.